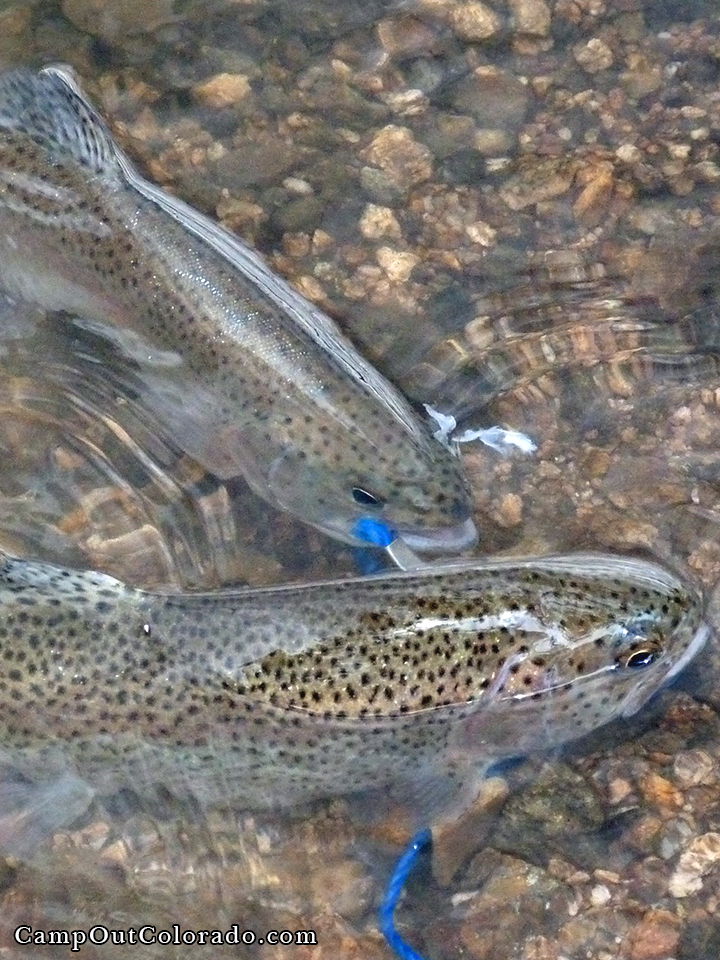 This is the Colorado Fish Stocking reports from 2014. I have added this page so we can see the history of stocking in 2014 if for any reason it is needed.
Rainbow Trout – Rainbows can be found in most mountain lakes and streams, as well as many plains reservoirs.
Saugeye – This hybrid of walleye and sauger has been stocked into reservoirs throughout the eastern plains of Colorado since the 1980s.
Channel Catfish – Channel cats are native to eastern Colorado and have been stocked in warmer rivers and reservoirs throughout the state.
Smallmouth Bass – Introduced to Colorado in 1951, small-mouth have been stocked in warm- and cool-water reservoirs and lakes in many parts of the state.
Fish Stocking Areas in Colorado – 2014
The table below identifies where catchable fish (approximately 10″) were recently stocked at the time of this report.
Links to Colorado's Fishing Atlas
Another great tool besides this fish stocking report that we like to use here at CampOutColorado.com for fishing when we are camping is the interactive Fishing Atlas. The Fishing Atlas provides a host of information, including driving directions, stocking details, and locations of the nearest license retailer.
To use this resource, click on the provided link under "Body of Water", and the atlas will open in a separate window. Once the atlas is open, you can zoom in or out, or click on the location to display detailed information. Feel free to play around with the options on the far left of the atlas for other types of information and displays.
Best Fishing Times Calendar
Another great fishing tool on CampOutColorado.com is the Best Time to Go Fishing Calendar. The Best Time to Go Fishing Calendar is a dynamic page that looks up the best times to fish for the day. It also gives you the next 30 days of expected best fishing times as well. Use these tools together to plan and enjoy the most of your fishing trips!
The best of luck to all those Colorado campers heading out there to fish. Remember, catch and release is the way to go! Make sure you take a camera, a ruler, and a scale with you so you can document your catch then release it back into the water as soon as possible. This is the only way to preserve the waters for others that we have all come to love when we are camping and enjoying the great outdoors.